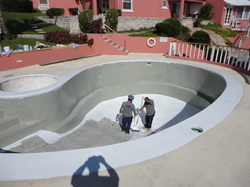 One trending pool style and design in the San Antonio area that has become extremely popular over the last five years has been the salt water pool. The salt water pool has been something that has been known to be beneficial to one's body for several years.
Seemingly extremely beneficial to one's health, it has been a curse to concrete decks everywhere. When it comes to keeping a very smooth finish and clean look on your concrete surface, typically there is a type of varnish that is used to seal the concrete deck.
Although the San Antonio area luckily does not have snow like the Midwest or other areas of the country, the salt water pool has had its own corroding effects that look very much like the roads throughout the North parts of the United States. Typically any concrete pool decking over time will require some type of maintenance. However with the newer style salt water pools we have seen a large number of pool deck resurfacing projects spike.
One consideration that we have suggested to our customers that have considered salt water pools has been to create a pool decking ring around their pool with some type of high-end vinyl product. By creating pool deck ring around their pool, with either a high-end vinyl product or perhaps even a natural stone (travertine stone, slate, textured slate, flagstone decking, cantera stone and marbella stone), they will protect the stamped styled and or colored concrete decking (or cool deck, kool deck) that should be offset by at least three feet. Protecting it from the splashing and the natural dripping that comes off one's body from the salt water pool can surely help mitigate some of the corrosion. These simple suggestions can really truly help you keep a more beautiful backyard sanctuary. Consider designing your saltwater pool smartly and save money in the end.
You can
Email us with the form on the contact page
or you can reach us at
(210) 871-8515
.
Go back to
Home Page Here